Nancy Sue!! Thank you for your comment Nancy. Nancy will get to choose between a 12 Days of Christmas Charm Pack and a Fruit Cake charm pack for her prize.
We hope everyone is enjoying their Air Conditioning as much as we are. Don't forget we are celebrating our a/c this week with 10% off Christmas fabrics and we're giving away free icy cold bottles of water, lemonade mixers, and a cute Quilter's Refuge coozie to keep your fingers from freezing! All online customers will receive this coozie along with their regular free fat quarter and extra gift!
Now if only fall would get here already...I want to make something with these Halloween fabrics...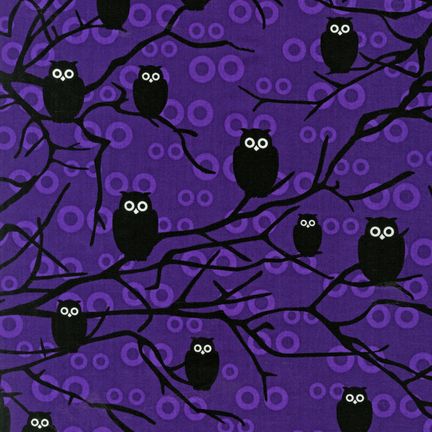 Aren't these fun?! I think Halloween might be my favorite holiday. What is yours?
Have a fabulous week and don't forget to send me your addresses so I can send you a postcard that you can redeem in store on September 1st during our Anniversary sale, or use online for 15% off on October 1st.
Also don't forget that this month's
Quilt Shop Carousel
is going on...and we are participating!! You get 12 Free patterns just for signing up for your online quilt shops mailing lists. Check out
Quilt Shop Carousel here.
Of course, I think our quilt is the prettiest!! Our free pattern that you will receive when you sign up for our newsletter is "Come Together". We used the new line from StudioE called "Layered Nature".
It doesn't get prettier than that!
You can buy the kit HERE.
Make sure to get your free patterns. They will only be up for one month.
<3Bonnie Jean